40 Years of Fiero Fun Kicks off at the 29th Annual Fieros at Carlisle!
If you haven't already done so, mark your calendars and make your reservations to join the fun June 22-25, 2023 as MAFOA once again hosts "Fieros at Carlisle" as part of the GM Nationals at the Carlisle Fairgrounds. This 4-day event begins on Thursday, June 22 and runs to Sunday, June 25. The GM Nationals portion of it takes place June 23 & 24 and this year, the Fiero is a Featured Vehicle!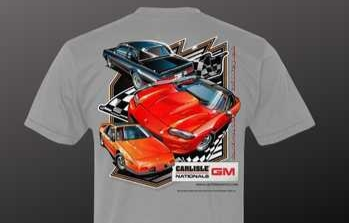 Our events schedule is still being finalized but so far includes:
Thursday Welcome Picnic & Parts Swap at the Derr's
Thursday Night Outing Options (Ax Throwing, Escape Room & Go Karting)
Friday Showfield Fun/GM Nationals
Friday Tech Session on Dew Wipe Replacement
Friday Cruise
Friday Night Pizza Party
Saturday Fieros at Carlisle Show and GM Nationals
Saturday Performance Upgrades Tech Session with Pickardt Performance, G3 Fieros and Fiero Jon's Parts & Service
Saturday Roving Tech Session with Fiero Jon
Saturday Showfield Tour & more!
Saturday Night Parking Lot Party
Sunday Farewell Breakfast
We want to continue to show GM Nationals just how awesome Fieros are so help us out by registering your car(s) today to help us compete and win the Car Club Challenge.
In addition to the Fiero events, GM Nationals will also include their giant swap meet, special guests, women's oasis, tech sessions, kids' entertainment and many other events.
We can't wait to see you in Carlisle!