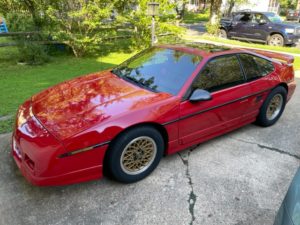 Engine: 2.8l V6 Trans: Manual Color: Red
Miles:79,874 Location: Annapolis MD
I purchased this car in Dec. 2016. The original mileage at
that time was 75,205. Today the odometer reads 79,874. The
car has all of its service records and a maintenance manual.
It even has the original window sticker. It is equipped with
the 2.8 liter V6 W/MPFI – L44 and a 5 speed manual
transmission. Here is list of all the parts updated at the time
of my purchase.
New brakes, ball joint, tie rod ends, new suspension
bushings with grease fittings (no squeaks), New headliner
(perfect), newish carpet, coil over suspension, new springs,
Koni shocks, new shifter cables, super short shifter kit, (feels
like a Lotus shifter), new spare tire, dashboard is perfect (no
warping, fading or cracks), AC was converted to R134. SS
brake lines, E brake works perfectly. Upgraded to OEM
period Pontiac CD player with EQ. All
gauges/switches/bulbs work.
In the last 4669 miles since I purchased the car here are
the things I have done to the car. Replaced the Ignition
module. New tires at 76374 (only 3500 miles on them)
(went from standard 215s on the rear to 235s, a little wider
tire, looks great from the rear). The springs the previous
owner replaced on the front were designed for a heavier car
and in turn the car rode rough. I had the front springs
replaced with lowering and softer springs from the Fiero
Store and adjusted the coil overs on the rear (Great
improvement in ride, handling and appearance). From Black
Top Racing they manufactured interior components and
performance parts, I installed a matching glove box (instead
of the pouch on the dash) and center console with cup
holders. Wooden dash trim and matching shifter boot.
Recently replaced the AC compressor and had the system
flushed and serviced. It will freeze you out. New clutch
master cylinder. I replaced the catalytic converter so exhaust
system is sound. The interior came as an option with
European style bucket leather seats, sunroof with shade,
power door locks, cruise control, dual power mirrors and
visor vanity mirror
What the car could use: the paint is starting to fade in
spots and the dash and interior quarter panel speakers need
to be replaced. Speakers can be purchased from The Fiero
Store, I think they're asking about $175.00 for all 4 of them.
This car is a trill to drive, its tight in corners and rides
really nice.
Price: $10,500
Contact: Don drpreul@gmail.com and or 410-412-0310